Rigi Authentication Application
Several Rigi Windows applications require that users authenticate.

The Rigi server supports various authentication strategies:
Username and password

The Rigi authentication application is required for users to login.
As an example, the Rigi plugin for Trados Studio has a feature where a user can upload translations directly to the Rigi server.

Click Upload for Review.



Note: you can click "Reset login data" to force a clean login.


Click OK.

If the Rigi Authenticator is not installed, you will be directed to install it.

A message is shown that logging in is started:



And then, after 1 or 2 seconds, the login dialog appears:




Enter your credentials.

You are now logged in. The system will memorize your credentials so that you do not need to login each time.
You can clear your settings via the checkbox in step 1.


Installation

The Rigi authenticator application will be launched for each action that requires a server login. If the applicaton is not installed, it will show the following dialog.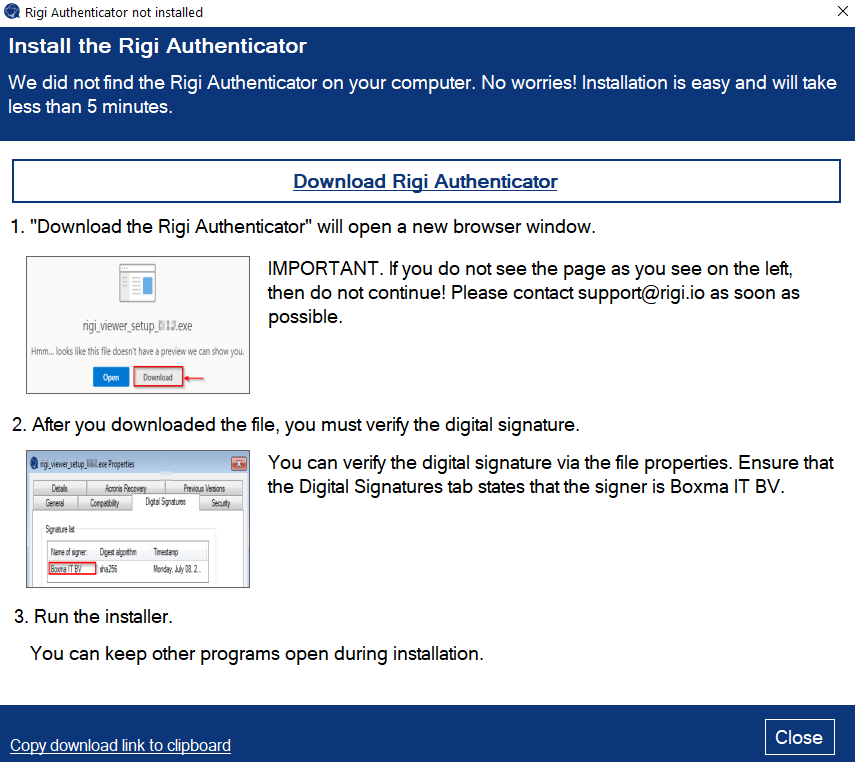 Click Download Rigi Authenticator.


Click Download.


Run the installer






Click Close.

Related Articles

High contrast mode

The Rigi web application supports high-contrast mode. Windows Open settings > High Contrast Turn on high contrast mode mode This is how it looks in Rigi:

Protect your account with 2FA

Your Rigi account is protected with an email address and password. 2FA is an extra layer of security used to make sure that people trying to gain access to an online account are who they say they are. First, a user will enter their username and a ...

Sign up

Users receive an invitation email from the project manager for a certain role or to perform a specific task. As a first step, the user needs to sign up and create a Rigi account. Steps Click the registration link in the email. This will open the ...

Keyboard navigation

The Rigi web application can be controlled using keyboard navigation. Key Description TAB Navigate to next element SHIFT + TAB Navigate to previous element ENTER - Open a selected tab - Execute the selected action (button) - Open the window of a ...

Text highlighting and selection

In Rigi, texts shall be automatically highlighted (green color) when you move your mouse over it. When you right click the mouse it shall be selected (yellow color). Troubleshooting What if highlighting does not work? Make sure that you have ...